Hi, My name is Roger Bouwman, Gringo Dog is the 1st step, in making real my life long love of hotdogs and my desire to own a hotdog cart/restaurant on the beaches of the world.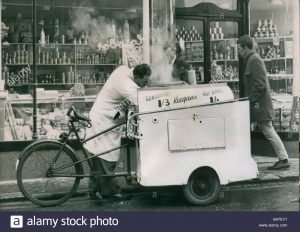 At the age of 4 years old (1967), on one of our families yearly two week long summer vacations, we got hotdogs off of this one pedal driven street cart. Like most kids, I loved hotdogs but to see a bike hooked to acart that was designed just to sell hotdogs etched that memory into my head. What a cool idea, an entire cart designed around my favorite food in the word. I had to have one, but mom and dad disagreed.
That memory stuck with me to adulthood and at the age of 52, I am proud to announce, I have finally acquired my cart. But as an adult I understand that just because its fun food does not mean its all fun and games.
We take the hotdog seriously and work hard to bring you the best hotdog  we can. To do this we use Koegel's All beef skinless or Beef/Pork Coney's so you know you can count on our hotdogs.
Of course we use fresh onions, peppers, tomato, dill pickles, sweet relish, corn relish, sport peppers, ourFamous Recipe Chili and Home Made Slaw, aged sourkrout, our New York style sweet onion red sauce, and we will even be using the Bouwman family bread recipe for our buns.
Gringo Dog looks forward to becoming your favorite food cart and soon your favoritere staurant. We will be seeing you down the road.